Vision calibration from Machine Unlearning (2020). Photography by Elody Libe. Image courtesy of the artist.
Machine Unlearning is a video installation in the style of an ASMR roleplay, in which the artist offers a treatment administered through a chip she inserts at the back of the viewer's neck. This chip allows the artist to directly administer the outputs of an LSTM algorithm through her whispered voice to the mind of the viewer as the algorithm unlearns language previously learned from the novel Wuthering Heights. This roleplay is complimented by a variety of physiological calibration routines and hypnotic hand gestures that play at visual rhythm and implied first person experience.
The combination of machine learning outputs and ASMR is intended to draw parallels to how the autonomous systems of algorithms are similar to the autonomous reactions of human sensory systems. Just as ASMRtists use specific sounds and visual patterns in their videos to "trigger" physical reactions in the user using stimuli, acting on the unconscious sensory processing of the listener as they watch the video, the algorithm also unconsciously responds to patterns perceived by its limited senses in order to develop its learning (and unlearning) processes.
More...
The use of the word "intelligence" in the metaphor of AI focuses on higher functions of consciousness that algorithms do not possess. While algorithms have not meaningfully achieved a humanistic consciousness to date, today's algorithms act autonomously on sensory information, processing data from its environment in unconscious, automatic ways. The human brain also responds unconsciously and automatically to sensory data in its environment, for example, even if you are not conscious of how hot a stove is, if you place your hand on a hot stove, your hand will automatically pull away. These unconscious, physiological actions in the sensory realm points to an area of common experience between algorithms and the human.  For more explanation of these ideas, take a look at the work of postmodern literary critic N. Katherine Hayles in her 2017 book Unthought: The power of the cognitive nonconscious.  In this way I wonder if the expression "autonomous intelligence" makes more sense than "artificial intelligence", however like posthumanist feminist Rosi Braidotti I am deeply suspicious of the humanist pride that our species takes in the word "intelligence" as something that confers a special status and justification for domination of other forms of life on earth.
Live Performance
This work was first developed as a performance that debuted at Cluster Festival, Winnipeg in 2019.  During live performance, each audience member dons a pair of wireless headphones.  The performance allows the audience members to see the ASMR "result" of the performance for camera, simultaneous with the ability to see my "backstage" manipulation of props and light in real time.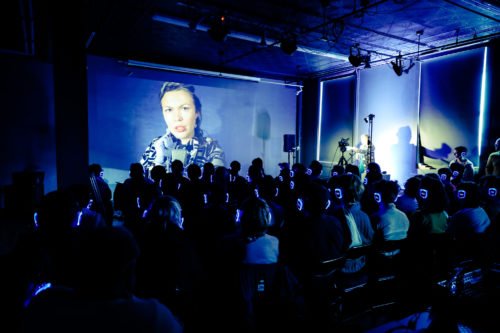 Machine Unlearning (2019) Performance at Cluster Festival, Winnipeg. Photo: Leif Norman.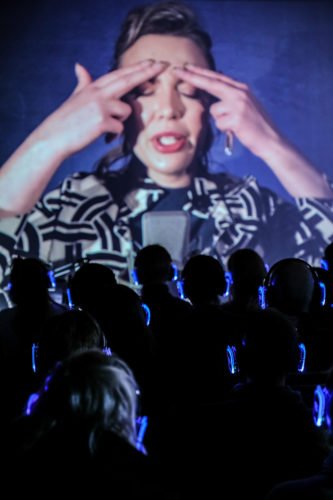 Machine Unlearning (2019) Performance at Cluster Festival, Winnipeg. Photo: Leif Norman.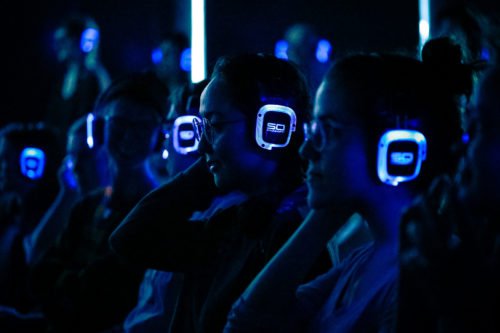 Machine Unlearning (2019) Performance at Cluster Festival, Winnipeg. Photo: Leif Norman.