NOT POMPIDOU – Paris, FR
As part of the 2020 exhibition NEURONS: Simulated Intelligence at Centre Pompidou, Paris, my work as a media artist in AI, affective computing, and interactive sound website was misattributed to American composer and professor at Brandeis University Erin Gee (who shares my name).
While the two Erin Gees have been aware of one another's practices for several years, (we share many peers who have teased us about our namesakes, and we were even programmed in the same music festival in 2019), to our knowledge our works have never been mixed up or misattributed in a professional capacity.
A public statement was made by the publishers of the catalogue (HYX editions) on their website and as a digital addendum/downloadable pdf, available here.
This post is intended to clarify the following points:
The work that was presented at Centre Pompidou, Shillim: Mouthpiece 34 (2019), is not my work. Mouthpieces is the name of a body of work by homonymous American composer Erin Gee. She is best known for her work in non-semantic vocal music that typically consists of vocal and instrumental compositions, named Mouthpieces with a numerator afterwards. She has been contributing compositions to the Mouthpieces series for over twenty years.
The artworks Machine Unlearning (2020) and Laughing Web Dot Space (2018) referenced in the wall text of the exhibition (see below) and attributed to the American composer are my works. These are new media artworks, incorporating technologies such as neural networks and interactive HTML in their creation. In addition, my work of the soone (2017) attributed to the American composer via the catalogue (see below) is another new media artwork of mine that uses machine learning / AI, and is a collaboration with Canadian media artist Sofian Audry, who is not acknowledged in the catalogue.
As part of the events surrounding the exhibition, American composer Erin Gee was also invited to speak on a panel as part of Forum Vertigo: human and artificial perception dealing with generative music and artificial intelligence.  The opinions expressed and works she references in this panel discussion are entirely her own and are unrelated to my practice.
Following the discovery of the misattribution of my work at the exhibition opening (thanks to Parisian peers who were on site), I worked with Robin Dupuis (the Director of the organization perte de signal, which represents my work) to communicate the seriousness of this error to the exhibition's curators Frédéric Migayrou et Camille Lenglois. Unfortunately, the wall text misattributing my work and research in new media art to American composer Erin Gee remained on the wall of the exhibition for weeks before being replaced by a text that was truly dedicated to the research of the American composer.
In response, the curators of Neurones apologized for these misattribution errors. They expressed that they were unable to do anything further to mitigate the issue of the 200-page catalogue, which also attributed other new media artworks of mine to the American composer who shares my name. During this period I had also reached out to the American artist who was also onsite, however for personal reasons she was not available to respond to the situation for several months.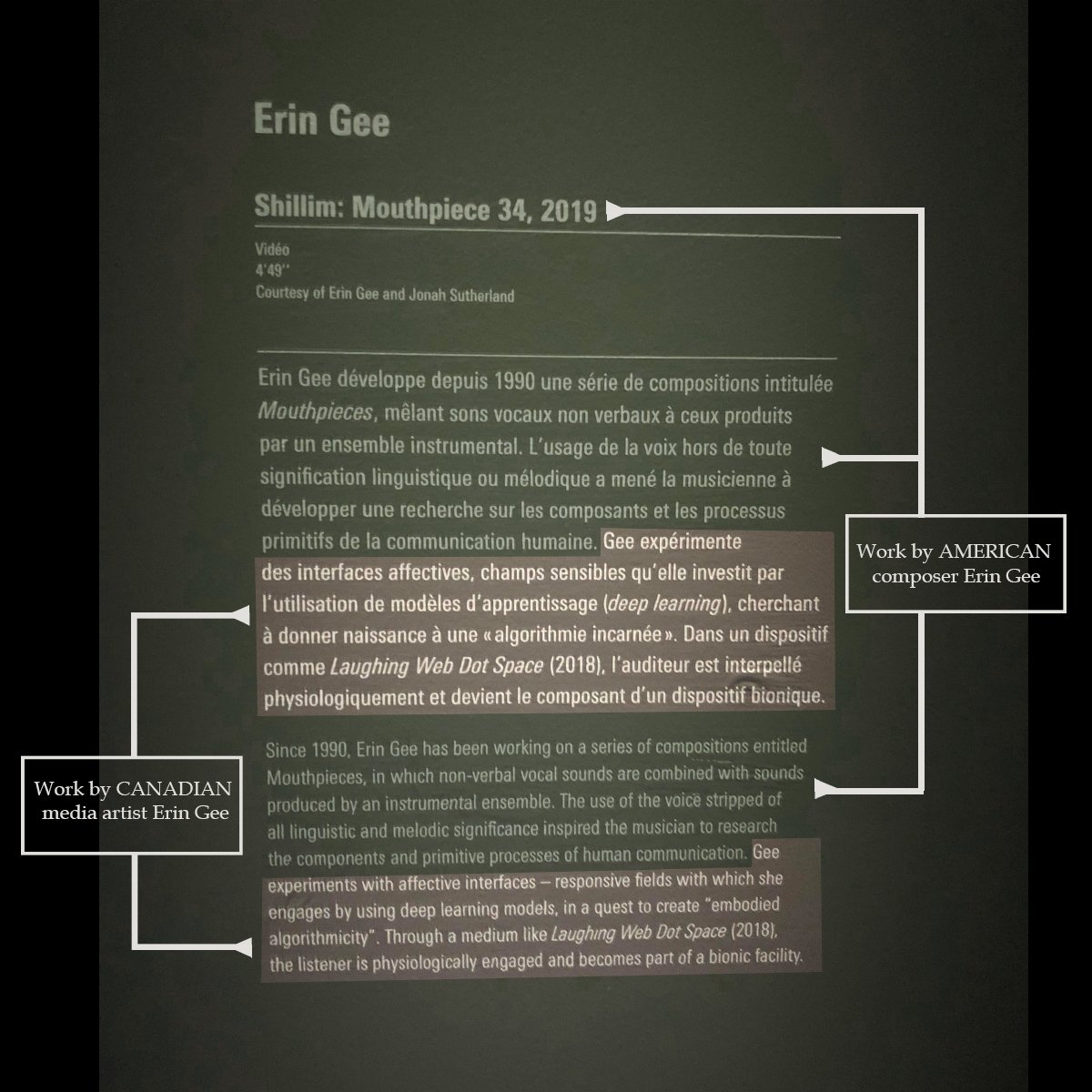 I am very grateful for the assistance of Robin Dupuis at Perte de Signal as well as Editions HYX publishers for working together to create a digital addendum that addresses the error published in the catalogue a month after the error was discovered. It was very pleasant to work with the publishers together on this solution. Despite this, a digital addendum has only a limited impact, as the printed copies remain in circulation without any printed addendum (see below).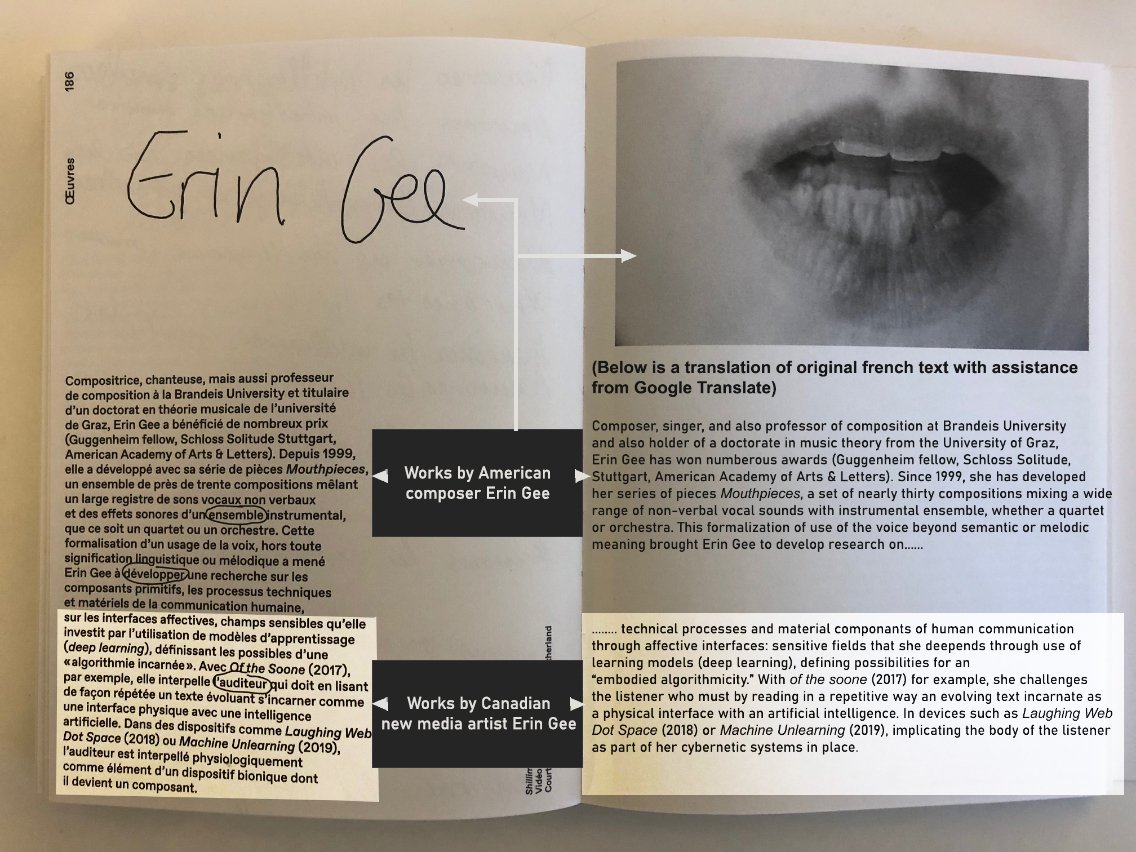 I have recently been in touch with American composer Erin Gee to share a horrified laugh and work on solutions – we have both agreed to be diligent and aware of potential confusions this situation might create in the future. We collectively state:  Canadian new media artist Erin Gee is a specialist in affective technologies, emergent technologies such as quantum computing and AI, and vocal performance inspired by ASMR. American composer Erin Gee is a professor at Brandeis University and also an expert in non-semantic vocal performance and composition techniques.
This is of course an imperfect and improvisational solution, as I would never want to prevent a peer from exploring new technology, nor is it logical for me to avoid non-semantic vocal content in future works. Rather, this strategy speaks to a disciplinary situatedness that our sensibilities emerge from. If you are a professional artist or curator working in our fields, please share this story in your network as a means of preventing further confusion. As more peers learn of this issue, as well as our two distinct practices and achievements in our respective fields, we hope that this error will not reproduce itself.