November 24-28, 2020
To the Farther (2020) ASMRtronica sound work is featured as part of Noviembre Electrónico in Buenos Aires, Argentina as part of a showcase of artistic work from the 2020 cohort of Amplify D.A.I.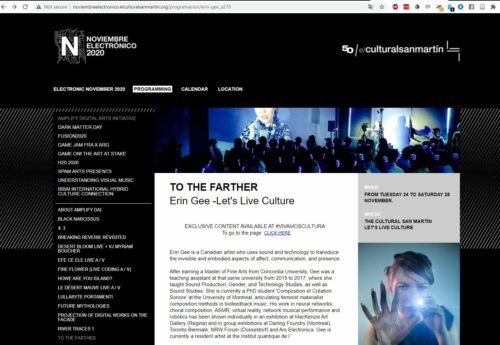 N
ABOUT THE EVENT
November Electrónico is the main event for digital and electronic culture in the City of Buenos Aires, which crosses art and science with the alternative world of video games, virtual and augmented reality, and electronic and expanded music.
In this ninth edition, more than 200 artists, developers, researchers and scientists will propose workshops, exhibitions, concerts, workshops, performances, keynote talks, conferences, screenings and many more experiences.
All activities are free and those of a virtual nature will be available at www.noviembreelectronico.elculturalsanmartin.org and at Vivamos Cultura. On the other hand, face-to-face activities in the open air can be enjoyed in the Plaza seca and in the Plaza de las Américas of El Cultural (Sarmiento 1551) from Thursday 26 to Saturday 28, between 6:00 p.m. and 10:00 p.m., and require prior registration as indicated in the health protocol.
Each Electronic November is a path towards the convergence between culture, science and technology, which expresses the innovative identity of El Cultural San Martín and explores the construction of new audiences.
Since 2012, more than 130 thousand visitors have shared samples, workshops, performances and all kinds of interactive activities, with virtual and augmented reality, electronic music, visualizations and mapping, robots, video games, digital and 3D manufacturing, drones and programming languages.
November Electrónico has the support of the Ministry of Culture of the City of Buenos Aires, the Fundación Banco Ciudad, Fundación Williams, Empower Communities, Cultural Participation Patronage, the British Council, the French Institute, Pro-Helvetia, the Galileo Galilei Planetarium, Centro of Experimentation and Research in Electronic Arts – IIAC – National University of Tres de Febrero, Understanding Visual Music – UVM, National University of San Martín, Object a, FUNDAV.