Rule35 @ Transfer NYC
I submitted this "speculatively sexual" GIF, featuring myself soldering my recent BioSynth boards, for the Rule 35 animated GIF exhibition as part of Faith Holland's Speculative Fetish exhibition at Transfer Gallery, Brooklyn. Click here for a preview of the GIF exhibition on Hyperallergic. 
I am far from a master of the animated GIF medium, but enjoy playing with all the truly talented people involved in this exhibition and am honored that Faith Holland invited me to participate.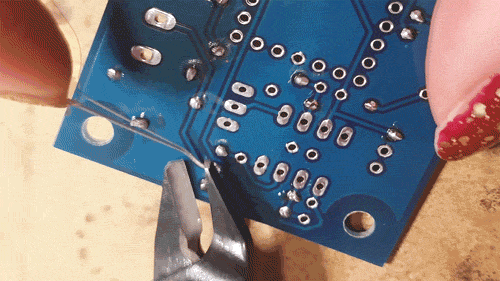 ///////////////////////////////////////////////
TRANSFER
1030 Metropolitan Avenue, Brooklyn
Saturday, January 6th 2018
6–10PM
///////////////////////////////////////////////
'Rule 35' asks more than 35 artists to respond to the Rules of the Internet, which state:
Rule 34. There is porn of it, no exception.
Rule 35. If no porn is found at the moment, it will be made.
Invited artists speculate on fetishes that do not exist, from getting turned out by the beam of a projector to a particularly salacious abstract painting and everything in-between.
A Bill Miller, Ad Minoliti, Alfredo Salazar-Caro, Alma Alloro, Andrew Benson, Anthony Antonellis, Carla Gannis, Christian Petersen, Claudia Hart, Daniel Temkin, Ellen Donnelly, Emilie Gervais, Erica Lapadat Janzen, Erin Gee, Eva Papamargariti, Georges Jacotey, Giselle Zatonyl, John Munshour, LaTurbo Avedon, Lorna Mills, LoVid, Mark Dorf, Melanie Hoff, Molly Soda, Morehshin Allahyari, Nicole Killian, Nicole Ruggiero, Pastiche Lumumba, Paula Nacif, Rafia Santana, Rebecca Goyette, Shawné Michaelain Holloway, Theo Triantafyllidis, Tristan Stevens, V5MT, Will Pappenheimer, Yoshi Sodeoka
The screening will be accompanied by ARPA-Cake by Sam Warga. It is inspired by the first modem of the internet, the Interface Message Processor. Consisting of funfetti mix, fondant, and hours of research, it is the artist's first cake experience and will be shared with all attending.
///////////////////////////////////////////////
About the Exhibition
'Speculative Fetish' addresses the way that technology functions as metaphor for the body, both in the language we use and in the ways we behave. Our use of personal devices is inherently intimate; tiny computers hug our thighs in our pockets and light up when we touch them. Such intimate relations–created by accessing sexts, porn, and lovers' messages–also engender care. We update and maintain as push notifications and pings direct our attention. The exhibition consists of Faith Holland's two new bodies of work, 'Queer Connections' and 'The Fetishes', as well as an online component, a catalog, and events.