Click here to read my interview with Alex Varty.  "ERIN GEE SINGS THE BODY ELECTRONIC"
Fresh on the heels of my return from the premiere of Echo Grey in Vancouver (my newest composition for vocal quartet, feedback soloist and tape), I find I've received my physical copy of Musicworks, which is a triannually released publication featuring experimental sounds from across Canada.
Amidst a really massive transition phase right now, I find that teaching full time has really changed what I can do as an artist.  Pushing myself to learn entirely new skillsets in organization and pedagogical performance (sidenote: yes, everything is a performance) has left me with little time or energy to invest in building new technologies.
Music composition has been something that I can invest time into, as all I need is a few moments, a microphone, my laptop, a notepad with pencil scribbles, my imagination.
This interview with Musicworks magazine was very interesting for me, as recently my opportunities have been coming from music composition.  The whole issue is actually very interesting, with a full feature on music and sound revolution in VR spaces, as well as some features on other very energetic and productive electroacoustic artists.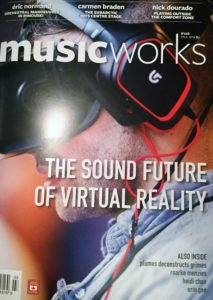 Musicworks #126 is available now with a special curated cd of sounds included in the physical magazine.  On this CD you can find a track from my Voice of Echo (2011) series.