KIDZLAB September 28-29 2017
Perte de Signal is happy to announce the launch of its first edition of KidZlab, a 4-day digital arts festival for young creators: "Un laboratoire d'innovation pour l'imaginaire."
For this first edition of KidZlab, I presented a workshop entitled "Strange Theremin" – teaching teams of young people to work in groups to assemble a circuit that allows them to manipulate musical tones with their skin conductance.  This new musical instrument allows students to explore touch, sweat, and emotional engagement as a potential musical material.
Here's what my young students had to say: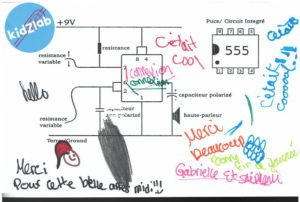 The event also featured very interesting workshops by artists:
Eric Cariat (BE) – Stephanie Castonguay – Maxime Damecour – Erin Gee – Alice Jarry – Roby Provost-Blanchard – Alexandre Quessy
at Perte de Signal 5445 De Gaspé – Espace 107 (RDC) Montréal.
With thanks to:
Conseil des arts et des lettres du Québec
Wallonie-Bruxelles International
KIKK Festival 2017
Les Journées de la culture
Le Fab Lab du PEC
For more information (in French):
https://perte-de-signal.org/kidzlab-festival-dart-numerique-pour-le-jeune-public/
KidZlab Laboratoire d'innovation pour l'imaginaire from PERTE DE SIGNAL on Vimeo.